Ultimate Weapons (ValhallaXI)
All Mythic Weapons occassionally attack twice, and provide Double Attack on Aftermath Lv.3.
Empyrean Weapons will remain unfilled until a form of acquisition has been released.

Yagrush: Currently no Divine Benison trait to augment.
Laevateinn: Currently not giving Magic Damage +10% during Elemental Seal.
Nagi: Currently not augmenting Mijin Gakure.
Tizona: BLU Set Points mod currently does not work.
Kenkonken: Currently does not suppress Overload, as Automatons do not work well yet.
Terpsichore1: Waltz recast mod currently does not work.
Terpsichore2: Finishing Moves mod currently only caps at default +1.
Pet: Extra DMG caps at X3 (300%).
Pet: Extra DMG Chance caps at 15%.
Avatar: TP Bonus currently not implemented into Blood Pacts.
Ranged attacks currently do not benefit from Occassional extra damage (Relics & ranged Mythic Aftermath Lv.3).
If you find that any of these item mods are not functioning properly, please feel free to let us know, and information will be adjusted accordingly. Edits to these items are subject to change at anytime, so be sure to keep an eye out for updates on the forums!
Related Links:
Customized Weapon Skills
Exchange NPC (Acquisition)
Empyrean Weapons (Acquisition)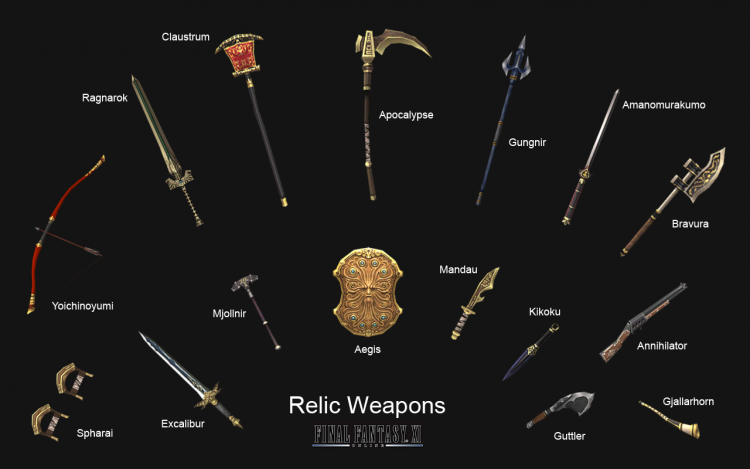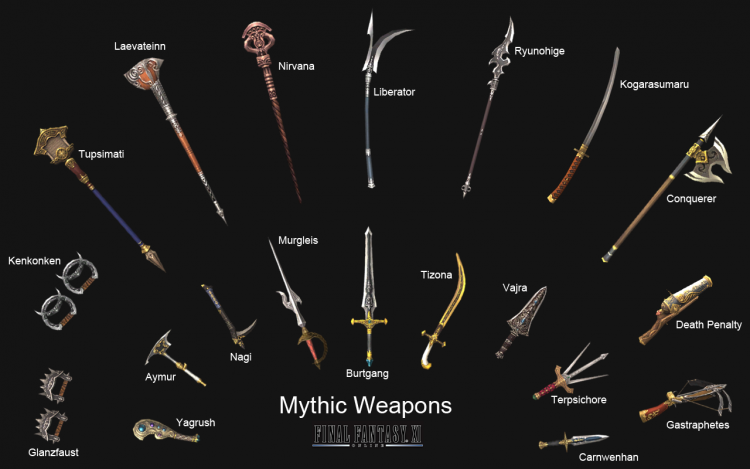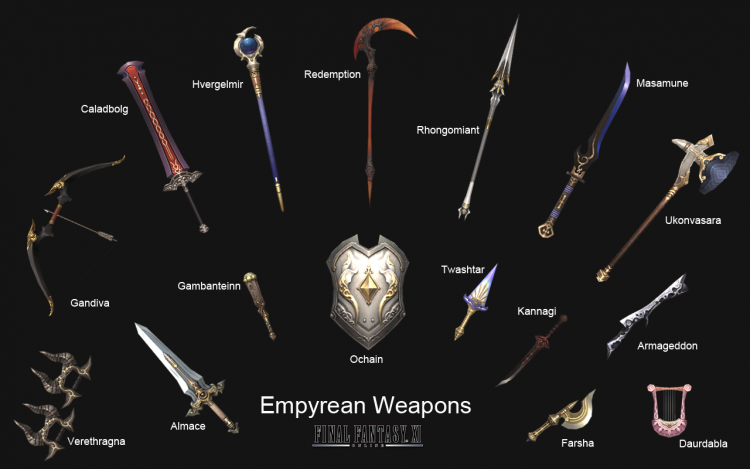 ===== Hand-to-Hand ===== | | | | | | | | Spharai (Relic)
MNK | Lv.75
HP +2%
Attack +25
Counter +6
"Final Heaven"
Extra DMG Chance 7.5%
Extra DMG X3
"Final Heaven" DMG +5% | Lv.80
HP +4%
Attack +35
Counter +9
"Final Heaven"
Extra DMG Chance 5%
Extra DMG X3.15
"Final Heaven" DMG +15% | Lv.85
HP +7%
Attack +45
Counter +12
"Final Heaven"
Extra DMG Chance 5%
Extra DMG X3.3
"Final Heaven" DMG +25% | Lv.90
HP +10%
Attack +55
Counter +15
"Final Heaven"
Extra DMG Chance 15%
Extra DMG X3.5
"Final Heaven" DMG +35% | | | | | | | | | Glanzfaust (Mythic)
MNK | Lv.75
STR +5
Boost Attack +5%
"Ascetic's Fury"
Bonus Kick Attack +5%
"Ascetic's Fury" DMG +5%
Augments Focus I
Augments Dodge I | Lv.80
STR +12
Boost Attack +12%
"Ascetic's Fury"
Bonus Kick Attack +12%
"Ascetic's Fury" DMG +12%
Augments Focus II
Augments Dodge II | Lv.85
STR +18
Boost Attack +18%
"Ascetic's Fury"
Bonus Kick Attack +18%
"Ascetic's Fury" DMG +18%
Augments Focus III
Augments Dodge III | Lv.90
STR +25
Boost Attack +25%
"Ascetic's Fury"
Bonus Kick Attack +25%
"Ascetic's Fury" DMG +25%
Augments Focus IV
Augments Dodge IV | | | | | | | | | Kenkonken (Mythic)
PUP | Lv.75
STR +5
VIT +5
Martial Arts +25
TP Bonus +250
"Stringing Pummel"
"Stringing Pummel" DMG +5%
Automaton:
Attack +35
Ranged Attack +35
Accuracy +35
Ranged Accuracy +35
Mag.Atk.Bns. +45
Magic Accuracy +45
Crit Rate +5%
Magic Crit Rate +5% | Lv.80
STR +10
VIT +10
Martial Arts +40
TP Bonus +500
"Stringing Pummel"
"Stringing Pummel" DMG +12%
Automaton:
Attack +65
Ranged Attack +65
Accuracy +65
Ranged Accuracy +65
Mag.Atk.Bns. +55
Magic Accuracy +55
Crit Rate +10%
Magic Crit Rate +10% | Lv.85
STR +15
VIT +15
Martial Arts +65
TP Bonus +750
"Stringing Pummel"
"Stringing Pummel" DMG +18%
Automaton:
Attack +95
Ranged Attack +95
Accuracy +95
Ranged Accuracy +95
Mag.Atk.Bns. +65
Magic Accuracy +65
Crit Rate +15%
Magic Crit Rate +15% | Lv.90
STR +20
VIT +20
Martial Arts +80
TP Bonus +1000
"Stringing Pummel"
"Stringing Pummel" DMG +25%
Automaton:
Attack +125
Ranged Attack +125
Accuracy +125
Ranged Accuracy +125
Mag.Atk.Bns. +75
Magic Accuracy +75
Crit Rate +20%
Magic Crit Rate +20% | | | | | | | | | Verethragna (Empyrean)
MNK PUP | | Lv.80 | Lv.85 | Lv.90 | | | | | | | | | | | | | | | ===== Dagger ===== | | | | | | | | Mandau (Relic)
RDM THF BRD | Lv.75
Attack +25
"Mercy Stroke"
Additional Effect: Poison
Extra DMG Chance 7.5%
Extra DMG X3
"Mercy Stroke" DMG +5% | Lv.80
Attack +35
Treasure Hunter +1
"Mercy Stroke"
Additional Effect: Poison
Extra DMG Chance 10%
Extra DMG X3.15
"Mercy Stroke" DMG +15% | Lv.85
Attack +45
Treasure Hunter +2
"Mercy Stroke"
Additional Effect: Poison
Extra DMG Chance 12.5%
Extra DMG X3.3
"Mercy Stroke" DMG +25% | Lv.90
Attack +55
Treasure Hunter +3
"Mercy Stroke"
Additional Effect: Poison
Extra DMG Chance 15%
Extra DMG X3.5
"Mercy Stroke" DMG +35% | | | | | | | | | Vajra (Mythic)
THF | Lv.75
DEX +5
AGI +5
"Mandalic Stab"
Trick Attack AGI +10%
Sneak Attack +10%
Trick Attack +10%
"Mandalic Stab" DMG +5% | Lv.80
DEX +10
AGI +10
"Mandalic Stab"
Trick Attack AGI +15%
Sneak Attack +15%
Trick Attack +15%
"Mandalic Stab" DMG +12% | Lv.85
DEX +15
AGI +15
"Mandalic Stab"
Trick Attack AGI +20%
Sneak Attack +20%
Trick Attack +20%
"Mandalic Stab" DMG +18% | Lv.90
DEX +20
AGI +20
"Mandalic Stab"
Trick Attack AGI +25%
Sneak Attack +25%
Trick Attack +25%
"Mandalic Stab" DMG +25% | | | | | | | | | Carnwenhan (Mythic)
BRD | Lv.75
DEX +5
CHR +5
Magic Accuracy +20
"Mordant Rime"
Song Duration +20%
Song cast time -1%
"Mordant Rime" DMG +5% | Lv.80
DEX +10
CHR +12
Magic Accuracy +35
"Mordant Rime"
Song Duration +30%
Song cast time -3%
"Mordant Rime" DMG +12% | Lv.85
DEX +15
CHR +18
Magic Accuracy +50
"Mordant Rime"
Song Duration +40%
Song cast time -5%
"Mordant Rime" DMG +18% | Lv.90
DEX +20
CHR +25
Magic Accuracy +65
"Mordant Rime"
Song Duration +50%
Song cast time -10%
"Mordant Rime" DMG +25% | | | | | | | | | Terpsichore (Mythic)
DNC | Lv.75
DEX +5
"Pyrrhic Kleos"
Step Accuracy +20
Waltz Potency +5%
Jig Duration +5%
Violent Flourish accuracy +5
Finishing Move from Steps +1
Waltz Delay -2 sec
Samba Duration +5%
"Pyrrhic Kleos" DMG +5% | Lv.80
DEX +12
"Pyrrhic Kleos"
Step Accuracy +30
Waltz Potency +10%
Jig Duration +10%
Violent Flourish accuracy +10
Finishing Move from Steps +1
Waltz Delay -4 sec
Samba Duration +10%
"Pyrrhic Kleos" DMG +12% | Lv.85
DEX +18
"Pyrrhic Kleos"
Step Accuracy +40
Waltz Potency +15%
Jig Duration +15%
Violent Flourish accuracy +15
Finishing Move from Steps +1
Waltz Delay -6 sec
Samba Duration +15%
"Pyrrhic Kleos" DMG +18% | Lv.90
DEX +25
"Pyrrhic Kleos"
Step Accuracy +50
Waltz Potency +20%
Jig Duration +20%
Violent Flourish accuracy +20
Finishing Moves from Steps +2
Waltz Delay -8 sec
Samba Duration +20%
"Pyrrhic Kleos" DMG +25% | | | | | | | | | Twashtar (Empyrean)
THF BRD DNC | | Lv.80 | Lv.85 | Lv.90 | | | | | | | | | | | | | | | ===== Sword ===== | | | | | | | | Excalibur (Relic)
RDM PLD | Lv.75
VIT +3
Attack +25
"Knights of Round"
Additional Effect: DMG varies w/HP
Extra DMG Chance 7.5%
Extra DMG X3
"Knights of Round" DMG +5% | Lv.80
VIT +6
Attack +35
"Knights of Round"
Additional Effect: DMG varies w/HP
Extra DMG Chance 10%
Extra DMG X3.15
Convert 1% Damage Taken to MP
"Knights of Round" DMG +15% | Lv.85
VIT +9
Attack +45
"Knights of Round"
Additional Effect: DMG varies w/HP
Extra DMG Chance 12.5%
Extra DMG X3.3
Convert 3% Damage Taken to MP
"Knights of Round" DMG +25% | Lv.90
VIT +12
Attack +55
"Knights of Round"
Additional Effect: DMG varies w/HP
Extra DMG Chance 15%
Extra DMG X3.5
Convert 5% Damage Taken to MP
"Knights of Round" DMG +35% | | | | | | | | | Murgleis (Mythic)
RDM | Lv.75
STR +2
INT +5
MND +5
Magic Accuracy +20
"Death Blossom"
Enspell DMG +10
Convert: 1 HP to 2 MP
Stoneskin cap +10
"Death Blossom" DMG +5% | Lv.80
STR +4
INT +10
MND +10
Magic Accuracy +35
"Death Blossom"
Enspell DMG +25
Convert: 1 HP to 2 MP
Stoneskin cap +15
"Death Blossom" DMG +12% | Lv.85
STR +7
INT +15
MND +15
Magic Accuracy +50
"Death Blossom"
Enspell DMG +50
Convert: 1 HP to 2 MP
Stoneskin cap +20
"Death Blossom" DMG +18% | Lv.90
STR +10
INT +20
MND +20
Magic Accuracy +65
"Death Blossom"
Enspell DMG +100
Convert 1: HP to 3 MP
Stoneskin cap +65
"Death Blossom" DMG +25% | | | | | | | | | Burtgang (Mythic)
PLD | Lv.75
VIT +5
Enmity +10
"Atonement"
Cure potency received +2%
Physical DMG Taken II -10%
CE loss on damage taken -10
Cure cast time -2%
"Atonement" DMG +5% | Lv.80
VIT +12
Enmity +13
"Atonement"
Cure potency received +4%
Physical DMG Taken II -13%
CE loss on damage taken -13
Cure cast time -4%
"Atonement" DMG +12% | Lv.85
VIT +18
Enmity +16
"Atonement"
Cure potency received +7%
Physical DMG Taken II -16%
CE loss on damage taken -16
Cure cast time -7%
"Atonement" DMG +18% | Lv.90
VIT +25
Enmity +20
"Atonement"
Cure potency received +10%
Physical DMG Taken II -20%
CE loss on damage taken -20
Cure cast time -10%
"Atonement" DMG +25% | | | | | | | | | Tizona (Mythic)
BLU | Lv.75
STR +5
DEX +2
VIT +2
AGI +2
INT +5
MND +2
CHR +2
Magic Accuracy +20
Blue magic skill +5
BLU set points +5
"Expiacion"
Occ. converts damage to MP
"Expiacion" DMG +5% | Lv.80
STR +10
DEX +3
VIT +3
AGI +3
INT +10
MND +3
CHR +3
Magic Accuracy +35
Blue magic skill +12
BLU set points +10
"Expiacion"
Occ. converts damage to MP II
"Expiacion" DMG +12% | Lv.85
STR +15
DEX +4
VIT +4
AGI +4
INT +15
MND +4
CHR +4
Magic Accuracy +50
Blue magic skill +18
BLU set points +15
"Expiacion"
Occ. converts damage to MP III
"Expiacion" DMG +18% | Lv.90
STR +20
DEX +5
VIT +5
AGI +5
INT +20
MND +5
CHR +5
Magic Accuracy +65
Blue magic skill +25
BLU set points +20
"Expiacion"
Occ. converts damage to MP IV
"Expiacion" DMG +25% | | | | | | | | | Almace (Empyrean)
RDM PLD BLU | | Lv.80 | Lv.85 | Lv.90 | | | | | | | | | | | | | | | ===== Great Sword ===== | | | | | | | | Ragnarok (Relic)
WAR PLD DRK | Lv.75
Accuracy +25
Crit Rate +6%
TP Bonus +250
"Scourge"
Extra DMG Chance 7.5%
Extra DMG X2.5
"Scourge" DMG +5% | Lv.80
Accuracy +35
Crit Rate +9%
TP Bonus +500
"Scourge"
Extra DMG Chance 10%
Extra DMG X2.65
"Scourge" DMG +15% | Lv.85
Accuracy +45
Crit Rate +12%
TP Bonus +750
"Scourge"
Extra DMG Chance 12.5%
Extra DMG X2.8
"Scourge" DMG +25% | Lv.90
Accuracy +55
Crit Rate +15%
TP Bonus +1000
"Scourge"
Extra DMG Chance 15%
Extra DMG X3
"Scourge" DMG +35% | | | | | | | | | Caladbolg (Empyrean)
PLD DRK | | Lv.80 | Lv.85 | Lv.90 | | | | | | | | | | | | | | | ===== Axe ===== | | | | | | | | Guttler (Relic)
BST | Lv.75
Attack +25
"Onslaught"
Charm Chance +5%
Additional Effect: Choke
Extra DMG Chance 7.5%
Extra DMG X2.5
"Onslaught" DMG +5%
Pet:
Extra DMG Chance 7.5%
Extra DMG X2 | Lv.80
Attack +35
"Onslaught"
Charm Chance +20%
Additional Effect: Choke
Extra DMG Chance 10%
Extra DMG X2.65
"Onslaught" DMG +15%
Pet:
Extra DMG Chance 10%
Extra DMG X2.15 | Lv.85
Attack +45
"Onslaught"
Charm Chance +35%
Additional Effect: Choke
Extra DMG Chance 12.5%
Extra DMG X2.8
"Onslaught" DMG +25%
Pet:
Extra DMG Chance 12.5%
Extra DMG X2.3 | Lv.90
Attack +55
"Onslaught"
Charm Chance +50%
Additional Effect: Choke
Extra DMG Chance 15%
Extra DMG X3
"Onslaught" DMG +35%
Pet:
Extra DMG Chance 15%
Extra DMG X2.5 | | | | | | | | | Aymur (Mythic)
BST | Lv.75
DEX +5
CHR +5
Attack +25
Crit Rate +2%
TP Bonus +250
"Primal Rend"
"Primal Rend" DMG +5%
Pet:
Attack +50
Triple Attack +2
TP Bonus +500
Triple Attack DMG X3 +2% | Lv.80
DEX +10
CHR +10
Attack +35
Crit Rate +4%
TP Bonus +500
"Primal Rend"
"Primal Rend" DMG +12%
Pet:
Attack +80
Triple Attack +4
TP Bonus +650
Triple Attack DMG X3 +4% | Lv.85
DEX +15
CHR +15
Attack +45
Crit Rate +7%
TP Bonus +750
"Primal Rend"
"Primal Rend" DMG +18%
Pet:
Attack +110
Triple Attack +7
TP Bonus +800
Triple Attack DMG X3 +7% | Lv.90
DEX +20
CHR +20
Attack +55
Crit Rate +10%
TP Bonus +1000
"Primal Rend"
"Primal Rend" DMG +25%
Pet:
Attack +140
Triple Attack +10
TP Bonus +1000
Triple Attack DMG X3 +10% | | | | | | | | | Farsha (Empyrean)
WAR BST | | Lv.80 | Lv.85 | Lv.90 | | | | | | | | | | | | | | | ===== Great Axe ===== | | | | | | | | Bravura (Relic)
WAR | Lv.75
Accuracy +25
"Metatron Torment"
Double Attack DMG X2 +1%
Additional Effect: Impairs evasion
Extra DMG Chance 7.5%
Extra DMG X2.5
"Metatron Torment" DMG +5% | Lv.80
Accuracy +35
"Metatron Torment"
Double Attack DMG X2 +2%
Additional Effect: Impairs evasion
Extra DMG Chance 10%
Extra DMG X2.65
"Metatron Torment" DMG +15% | Lv.85
Accuracy +45
"Metatron Torment"
Double Attack DMG X2 +3%
Additional Effect: Impairs evasion
Extra DMG Chance 12.5%
Extra DMG X2.8
"Metatron Torment" DMG +25% | Lv.90
Accuracy +55
"Metatron Torment"
Double Attack DMG X2 +5%
Additional Effect: Impairs evasion
Extra DMG Chance 15%
Extra DMG X3
"Metatron Torment" DMG +35% | | | | | | | | | Conqueror (Mythic)
WAR | Lv.75
STR +5
TP Bonus +250
"King's Justice"
Double Attack DMG X2 +5%
Warcry Duration +10 sec
"King's Justice" DMG +5%
Augments Berserk I | Lv.80
STR +12
TP Bonus +500
"King's Justice"
Double Attack DMG X2 +12%
Warcry Duration +20 sec
"King's Justice" DMG +12%
Augments Berserk II | Lv.85
STR +18
TP Bonus +750
"King's Justice"
Double Attack DMG X2 +18%
Warcry Duration +30 sec
"King's Justice" DMG +18%
Augments Berserk III | Lv.90
STR +25
TP Bonus +1000
"King's Justice"
Double Attack DMG X2 +25%
Warcry Duration +40 sec
"King's Justice" DMG +25%
Augments Berserk IV | | | | | | | | | Ukonvasara (Empyrean)
WAR | | Lv.80 | Lv.85 | Lv.90 | | | | | | | | | | | | | | | ===== Scythe ===== | | | | | | | | Apocalypse (Relic)
DRK | Lv.75
Accuracy +25
Attack +25%
"Catastrophe"
Additional Effect: Blindness
Extra DMG Chance 7.5%
Extra DMG X2.5
"Catastrophe" DMG +5% | Lv.80
Accuracy +35
Attack +35%
"Catastrophe"
Additional Effect: Blindness
Extra DMG Chance 10%
Extra DMG X2.65
"Catastrophe" DMG +15% | Lv.85
Accuracy +45
Attack +45%
"Catastrophe"
Additional Effect: Blindness
Extra DMG Chance 12.5%
Extra DMG X2.8
"Catastrophe" DMG +25% | Lv.90
Accuracy +55
Attack +55%
"Catastrophe"
Additional Effect: Blindness
Extra DMG Chance 15%
Extra DMG X3
"Catastrophe" DMG +35% | | | | | | | | | Liberator (Mythic)
DRK | Lv.75
STR +5
INT +5
Magic Accuracy +20
Dark magic skill +5
TP Bonus +250
"Insurgency"
Absorb Spells +20%
"Insurgency" DMG +5% | Lv.80
STR +10
INT +10
Magic Accuracy +35
Dark magic skill +12
TP Bonus +500
"Insurgency"
Absorb Spells +35%
"Insurgency" DMG +12% | Lv.85
STR +15
INT +15
Magic Accuracy +50
Dark magic skill +18
TP Bonus +750
"Insurgency"
Absorb Spells +75%
"Insurgency" DMG +18% | Lv.90
STR +20
INT +20
Magic Accuracy +65
Dark magic skill +25
TP Bonus +1000
"Insurgency"
Absorb Spells +100%
"Insurgency" DMG +25% | | | | | | | | | Redemption (Empyrean)
DRK | | Lv.80 | Lv.85 | Lv.90 | | | | | | | | | | | | | | | ===== Polearm ===== | | | | | | | | Gungnir (Relic)
DRG | Lv.75
Accuracy +25
"Geirskogul"
Jump Attack +25%
Additional Effect: Weakens defense
Extra DMG Chance 7.5%
Extra DMG X2.5
"Geirskogul" DMG +5%
Wyvern:
HP +5%
Attack +150
Accuracy +150
Absorb Damage +2%
Extra DMG Chance 7.5%
Extra DMG X2.5 | Lv.80
Accuracy +35
"Geirskogul"
Jump Attack +50%
Additional Effect: Weakens defense
Extra DMG Chance 10%
Extra DMG X2.65
"Geirskogul" DMG +15%
Wyvern:
HP +20%
Attack +185
Accuracy +185
Absorb Damage +4%
Extra DMG Chance 10%
Extra DMG X2.65 | Lv.85
Accuracy +45
"Geirskogul"
Jump Attack +75%
Additional Effect: Weakens defense
Extra DMG Chance 12.5%
Extra DMG X2.8
"Geirskogul" DMG +25%
Wyvern:
HP +35%
Attack +215
Accuracy +215
Absorb Damage +7%
Extra DMG Chance 12.5%
Extra DMG X2.8 | Lv.90
Accuracy +55
"Geirskogul"
Jump Attack +100%
Additional Effect: Weakens defense
Extra DMG Chance 15%
Extra DMG X3
"Geirskogul" DMG +35%
Wyvern:
HP +50%
Attack +250
Accuracy +250
Absorb Damage +10%
Extra DMG Chance 15%
Extra DMG X3 | | | | | | | | | Ryunohige (Mythic)
DRG | Lv.75
STR +5
"Drakesbane"
Jump Attack +10%
"Drakesbane" DMG +5%
Jump Crit 100%
Wyvern:
HP +5%
Attack +150
Accuracy +150
Crit Rate +2%
Double Attack +5
Absorb Damage +2% | Lv.80
STR +12
"Drakesbane"
Jump Attack +20%
"Drakesbane" DMG +12%
Jump Crit 100%
Wyvern:
HP +20%
Attack +185
Accuracy +185
Crit Rate +5%
Double Attack +10
Absorb Damage +5% | Lv.85
STR +18
"Drakesbane"
Jump Attack +30%
"Drakesbane" DMG +18%
Jump Crit 100%
Wyvern:
HP +35%
Attack +215
Accuracy +215
Crit Rate +10%
Double Attack +20
Absorb Damage +10% | Lv.90
STR +25
"Drakesbane"
Jump Attack +40%
"Drakesbane" DMG +25%
Jump Crit 100%
Wyvern:
HP +50%
Attack +250
Accuracy +250
Crit Rate +15%
Double Attack +30
Absorb Damage +15% | | | | | | | | | Rhongomiant (Empyrean)
DRG | | Lv.80 | Lv.85 | Lv.90 | | | | | | | | | | | | | | | ===== Katana ===== | | | | | | | | Kikoku (Relic)
NIN | Lv.75
Attack +25
"Blade: Metsu"
Additional Effect: Paralysis
Dual Wield bonus attack +2%
Extra DMG Chance 7.5%
Extra DMG X3
"Blade: Metsu" DMG +5% | Lv.80
Attack +35
"Blade: Metsu"
Additional Effect: Paralysis
Dual Wield bonus attack +4%
Extra DMG Chance 10%
Extra DMG X3.15
"Blade: Metsu" DMG +15% | Lv.85
Attack +45
"Blade: Metsu"
Additional Effect: Paralysis
Dual Wield bonus attack +7%
Extra DMG Chance 12.5%
Extra DMG X3.3
"Blade: Metsu" DMG +25% | Lv.90
Attack +55
"Blade: Metsu"
Additional Effect: Paralysis
Dual Wield bonus attack +10%
Extra DMG Chance 15%
Extra DMG X3.5
"Blade: Metsu" DMG +35% | | | | | | | | | Nagi (Mythic)
NIN | Lv.75
STR +5
INT +5
Enmity +10
Magic Accuracy +20
Ninjutsu skill +5
"Blade: Kamu"
Elemental Ninjutsu DMG +5%
"Blade: Kamu" DMG +5% | Lv.80
STR +10
INT +10
Enmity +15
Magic Accuracy +35
Ninjutsu skill +12
"Blade: Kamu"
Elemental Ninjutsu DMG +15%
"Blade: Kamu" DMG +12% | Lv.85
STR +15
INT +15
Enmity +20
Magic Accuracy +50
Ninjutsu skill +18
"Blade: Kamu"
Elemental Ninjutsu DMG +25%
"Blade: Kamu" DMG +18% | Lv.90
STR +20
INT +20
Enmity +25
Magic Accuracy +65
Ninjutsu skill +25
"Blade: Kamu"
Elemental Ninjutsu DMG +35%
"Blade: Kamu" DMG +25% | | | | | | | | | Kannagi (Empyrean)
NIN | | Lv.80 | Lv.85 | Lv.90 | | | | | | | | | | | | | | | ===== Great Katana ===== | | | | | | | | Amanomurakumo (Relic)
SAM | Lv.75
Accuracy +25
Store TP +10
"Tachi: Kaiten"
Additional Effect: Weakens attacks
Extra DMG Chance 7.5%
Extra DMG X2.5
"Tachi: Kaiten" DMG +5% | Lv.80
Accuracy +35
Store TP +15
"Tachi: Kaiten"
Additional Effect: Weakens attacks
Extra DMG Chance 10%
Extra DMG X2.65
"Tachi: Kaiten" DMG +15% | Lv.85
Accuracy +45
Store TP +20
"Tachi: Kaiten"
Additional Effect: Weakens attacks
Extra DMG Chance 12.5%
Extra DMG X2.8
"Tachi: Kaiten" DMG +25% | Lv.90
Accuracy +55
Store TP +25
"Tachi: Kaiten"
Additional Effect: Weakens attacks
Extra DMG Chance 15%
Extra DMG X3
"Tachi: Kaiten" DMG +35% | | | | | | | | | Kogarasumaru (Mythic)
SAM | Lv.75
STR +5
Skillchain Bonus +3%
"Tachi: Rana"
Third Eye anticipation +15%
Third Eye counter +5%
"Tachi: Rana" DMG +5% | Lv.80
STR +12
Skillchain Bonus +7%
"Tachi: Rana"
Third Eye anticipation +20%
Third Eye counter +12%
"Tachi: Rana" DMG +12% | Lv.85
STR +18
Skillchain Bonus +11%
"Tachi: Rana"
Third Eye anticipation +25%
Third Eye counter +18%
"Tachi: Rana" DMG +18% | Lv.90
STR +25
Skillchain Bonus +15%
"Tachi: Rana"
Third Eye anticipation +30%
Third Eye counter +25%
"Tachi: Rana" DMG +25%
All WS DMG +15% | | | | | | | | | Masamune (Empyrean)
SAM | | Lv.80 | Lv.85 | Lv.90 | | | | | | | | | | | | | | | ===== Club ===== | | | | | | | | Mjollnir (Relic)
WHM | Lv.75
Attack +25
"Randgrith"
Additional Effect: Recover MP
Auspice Subtle Blow +5
Extra DMG Chance 7.5%
Extra DMG X3
"Randgrith" DMG +5% | Lv.80
Attack +35
"Randgrith"
Additional Effect: Recover MP
Auspice Subtle Blow +15
Extra DMG Chance 10%
Extra DMG X3.15
"Randgrith" DMG +15% | Lv.85
Attack +45
"Randgrith"
Additional Effect: Recover MP
Auspice Subtle Blow +25
Extra DMG Chance 12.5%
Extra DMG X3.3
"Randgrith" DMG +25% | Lv.90
Attack +55
"Randgrith"
Additional Effect: Recover MP
Auspice Subtle Blow +35
Extra DMG Chance 15%
Extra DMG X3.5
"Randgrith" DMG +35% | | | | | | | | | Yagrush (Mythic)
WHM | Lv.75
MND +5
Magic Accuracy +20
"Mystic Boon"
Cure potency +2%
Fast Cast +2 (uncapped)
Enhances Divine Veil
"Mystic Boon" DMG +5% | Lv.80
MND +12
Magic Accuracy +35
"Mystic Boon"
Cure potency +4%
Fast Cast +4 (uncapped)
Enhances Divine Veil
"Mystic Boon" DMG +12% | Lv.85
MND +18
Magic Accuracy +50
"Mystic Boon"
Cure potency +7%
Fast Cast +7 (uncapped)
Enhances Divine Veil
"Mystic Boon" DMG +18% | Lv.90
MND +25
Magic Accuracy +65
"Mystic Boon"
Cure potency +15%
Fast Cast +15 (uncapped)
Enhances Divine Veil
"Mystic Boon" DMG +25% | | | | | | | | | Gambanteinn (Empyrean)
WHM | | Lv.80 | Lv.85 | Lv.90 | | | | | | | | | | | | | | | ===== Staff ===== | | | | | | | | Claustrum (Relic)
BLM SMN | Lv.75
Accuracy +25
Mag.Atk.Bns. +35
"Gate of Tartarus"
Additional Effect: Dispel
Extra DMG Chance 7.5%
Extra DMG X2.5
Magic Crit Rate +7%
Magic Crit DMG +15%
"Gate of Tartarus" DMG +5%
Blood Boon +10
Augments Blood Boon
Avatar:
Attack +75
Mag.Atk.Bns. +30
TP Bonus +1150 | Lv.80
Accuracy +35
Mag.Atk.Bns. +45
"Gate of Tartarus"
Additional Effect: Dispel
Extra DMG Chance 10%
Extra DMG X2.65
Magic Crit Rate +10%
Magic Crit DMG +20%
"Gate of Tartarus" DMG +15%
Blood Boon +15
Augments Blood Boon
Avatar:
Attack +95
Mag.Atk.Bns. +45
TP Bonus +1300 | Lv.85
Accuracy +45
Mag.Atk.Bns. +55
"Gate of Tartarus"
Additional Effect: Dispel
Extra DMG Chance 12.5%
Extra DMG X2.8
Magic Crit Rate +12%
Magic Crit DMG +25%
"Gate of Tartarus" DMG +25%
Blood Boon +20
Augments Blood Boon
Avatar:
Attack +115
Mag.Atk.Bns. +60
TP Bonus +1450 | Lv.90
Accuracy +55
Mag.Atk.Bns. +65
"Gate of Tartarus"
Additional Effect: Dispel
Extra DMG Chance 15%
Extra DMG X3
Magic Crit Rate +15%
Magic Crit DMG +30%
"Gate of Tartarus" DMG +35%
Blood Boon +25
Augments Blood Boon
Avatar:
Attack +135
Mag.Atk.Bns. +75
TP Bonus +1600 | | | | | | | | | Laevateinn (Mythic)
BLM | Lv.75
INT +5
Accuracy +30
Mag.Atk.Bns. +55
Magic Accuracy +30
Conserve MP +5
"Vidohunir"
"Vidohunir" DMG +5% | Lv.80
INT +12
Accuracy +35
Mag.Atk.Bns. +65
Magic Accuracy +35
Conserve MP +12
"Vidohunir"
"Vidohunir" DMG +12% | Lv.85
INT +18
Accuracy +45
Mag.Atk.Bns. +75
Magic Accuracy +40
Conserve MP +18
"Vidohunir"
"Vidohunir" DMG +18% | Lv.90
INT +25
Accuracy +55
Mag.Atk.Bns. +85
Magic Accuracy +45
Conserve MP +25
"Vidohunir"
"Vidohunir" DMG +25% | | | | | | | | | Nirvana (Mythic)
SMN | Lv.75
MP +5%
STR +5
MND +5
Accuracy +30
Summoning skill +5
Avatar perp cost -4
"Garland of Bliss"
"Garland of Bliss" DMG +5%
Avatar:
Attack +75
Mag.Atk.Bns. +30
Damage Taken -2%
TP Bonus +150
Regain +5 | Lv.80
MP +10%
STR +10
MND +12
Accuracy +35
Summoning skill +12
Avatar perp cost -5
"Garland of Bliss"
"Garland of Bliss" DMG +12%
Avatar:
Attack +95
Mag.Atk.Bns. +45
Damage Taken -4%
TP Bonus +300
Regain +10 | Lv.85
MP +15%
STR +15
MND +18
Accuracy +45
Summoning skill +18
Avatar perp cost -6
"Garland of Bliss"
"Garland of Bliss" DMG +18%
Avatar:
Attack +115
Mag.Atk.Bns. +60
Damage Taken -7%
TP Bonus +450
Regain +15 | Lv.90
MP +20%
STR +20
MND +25
Accuracy +55
Summoning skill +25
Avatar perp cost -7
"Garland of Bliss"
"Garland of Bliss" DMG +25%
Avatar:
Attack +135
Mag.Atk.Bns. +75
Damage Taken -10%
TP Bonus +600
Regain +25 | | | | | | | | | Tupsimati (Mythic)
SCH | Lv.75
INT +5
Accuracy +30
Mag.Atk.Bns. +35
Magic Accuracy +20
"Omniscience"
Sublimation +1
Helix effect +2%
Iridescence
Ebullience potency +10%
"Omniscience" DMG +5% | Lv.80
INT +12
Accuracy +35
Mag.Atk.Bns. +45
Magic Accuracy +35
"Omniscience"
Sublimation +1
Helix effect +4%
Iridescence
Ebullience potency +15%
"Omniscience" DMG +12% | Lv.85
INT +18
Accuracy +45
Mag.Atk.Bns. +55
Magic Accuracy +50
"Omniscience"
Sublimation +2
Helix effect +7%
Iridescence
Ebullience potency +20%
"Omniscience" DMG +18% | Lv.90
INT +25
Accuracy +55
Mag.Atk.Bns. +65
Magic Accuracy +65
"Omniscience"
Sublimation +3
Helix effect +10%
Iridescence
Ebullience potency +25%
"Omniscience" DMG +25% | | | | | | | | | Hvergelmir (Empyrean)
BLM SMN SCH | | Lv.80 | Lv.85 | Lv.90 | | | | | | | | | | | | | | | ===== Archery ===== | | | | | | | | Yoichinoyumi (Relic)
RNG SAM | Lv.75
Ranged Attack +35
Ranged Accuracy +45
"Namas Arrow"
Velocity Shot Rng.Atk. +10%
Extra DMG Chance 7.5%
Extra DMG X3
"Namas Arrow" DMG +5% | Lv.80
Ranged Attack +65
Ranged Accuracy +75
"Namas Arrow"
Velocity Shot Rng.Atk. +15%
Extra DMG Chance 10%
Extra DMG X3.15
"Namas Arrow" DMG +15% | Lv.85
Ranged Attack +95
Ranged Accuracy +105
"Namas Arrow"
Velocity Shot Rng.Atk. +20%
Extra DMG Chance 12.5%
Extra DMG X3.3
"Namas Arrow" DMG +25% | Lv.90
Ranged Attack +125
Ranged Accuracy +135
"Namas Arrow"
Velocity Shot Rng.Atk. +25%
Extra DMG Chance 15%
Extra DMG X3.5
"Namas Arrow" DMG +35% | | | | | | | | | Gandiva (Empyrean)
RNG | | Lv.80 | Lv.85 | Lv.90 | | | | | | | | | | | | | | | ===== Marksmanship ===== | | | | | | | | Annihilator (Relic)
RNG | Lv.75
Ranged Attack +35
Ranged Accuracy +45
Recycle +10%
"Coronach"
Rapid Shot DMG X2 +10%
Extra DMG Chance 7.5%
Extra DMG X3
"Coronach" DMG +5% | Lv.80
Ranged Attack +65
Ranged Accuracy +25
Recycle +13%
"Coronach"
Rapid Shot DMG X2 +15%
Extra DMG Chance 10%
Extra DMG X3.15
"Coronach" DMG +15% | Lv.85
Ranged Attack +95
Ranged Accuracy +105
Recycle +16%
"Coronach"
Rapid Shot DMG X2 +20%
Extra DMG Chance 12.5%
Extra DMG X3.3
"Coronach" DMG +25% | Lv.90
Ranged Attack +125
Ranged Accuracy +135
Recycle +20%
"Coronach"
Rapid Shot DMG X2 +25%
Extra DMG Chance 15%
Extra DMG X3.5
"Coronach" DMG +35% | | | | | | | | | Gastraphetes (Mythic)
RNG | Lv.75
AGI +5
TP Bonus +250
"Trueflight"
Snapshot +10%
Barrage Accuracy +45
Double Shot Rate +10%
"Trueflight" DMG +5% | Lv.80
AGI +12
TP Bonus +500
"Trueflight"
Snapshot +15%
Barrage Accuracy +50
Double Shot Rate +20%
"Trueflight" DMG +12% | Lv.85
AGI +18
TP Bonus +750
"Trueflight"
Snapshot +20%
Barrage Accuracy +65
Double Shot Rate +30%
"Trueflight" DMG +18% | Lv.90
AGI +25
TP Bonus +1000
"Trueflight"
Snapshot +25%
Barrage Accuracy +80
Double Shot Rate +40%
"Trueflight" DMG +25% | | | | | | | | | Death Penalty (Mythic)
COR | Lv.75
AGI +5
Magic Accuracy +20
TP Bonus +250
"Leaden Salute"
Quick Draw DMG X3 +2%
Phantom Roll Job Bonus +5%
"Leaden Salute" DMG +5%
Quick Draw DMG +20% | Lv.80
AGI +12
Magic Accuracy +35
TP Bonus +500
"Leaden Salute"
Quick Draw DMG X3 +4%
Phantom Roll Job Bonus +15%
"Leaden Salute" DMG +12%
Quick Draw DMG +35% | Lv.85
AGI +18
Magic Accuracy +50
TP Bonus +750
"Leaden Salute"
Quick Draw DMG X3 +7%
Phantom Roll Job Bonus +25%
"Leaden Salute" DMG +18%
Quick Draw DMG +50% | Lv.90
AGI +25
Magic Accuracy +65
TP Bonus +1000
"Leaden Salute"
Quick Draw DMG X3 +10%
Phantom Roll Job Bonus +50%
"Leaden Salute" DMG +25%
Quick Draw DMG +65% | | | | | | | | | Armageddon (Empyrean)
RNG COR | | Lv.80 | Lv.85 | Lv.90 | | | | | | | | | | | | | | | ===== Shield ===== | | | | | | | | Aegis (Relic)
PLD | Lv.75
DEF:40
Shield Bash +200
Magic damage taken II -30% | Lv.80
DEF:40
Rampart duration +5 sec
Shield Bash +250
Magic damage taken II -40% | Lv.85
DEF:40
Rampart duration +10 sec
Shield Bash +350
Magic damage taken II -50% | Lv.90
DEF:40
Rampart duration +15 sec
Shield Bash +450
Magic damage taken II -60% | | | | | | | | | Ochain (Empyrean)
PLD | | | Lv.85 | Lv.90 | | | | | | | | | | | | | | | ===== Instrument ===== | | | | | | | | Gjallarhorn (Relic)
BRD | Lv.75
CHR +10
Singing Skill +20
Wind Skill +20
All songs +2 | Lv.80
CHR +15
Singing Skill +25
Wind Skill +25
All songs +3 | Lv.85
CHR +20
Singing Skill +30
Wind Skill +30
All songs +4
Maximum songs +1 | Lv.90
CHR +25
Singing Skill +35
Wind Skill +35
All songs +5
Maximum songs +2 | | | | | | | | | Daurdabla (Empyrean)
BRD | | | Lv.85 | Lv.90** |